Top Penny Stocks Like ZPPB Can Make You Some Money
Unfortunately ZPPB Wasn't Ideal…
ZPPB was a pump that was released this morning. The stock was $.12 when the alert came out and then all of a sudden 2 minutes later gapped up to $.35 and reached a high of .42! There was basically no chance to make money off the initial move because of the massive gap. I never would suggest buying a stock that makes a 300% move because it is bound to pull back. You literally could get into this one unfortunately.
My Quick Scalp Trade in ZPPB
I did however buy the retracement into my buy zone using a key fib level which proved to be a decent opportunity for a scalp trade. If you've studied my course you'll know exactly why I trade the top penny stocks, and what I look for day in and day out. My entry price was $.242 and I sold 25,000 at $.272, and another 25000 at at $.29. I only took 50,000 shares because I wasn't comfortable taking on more risk considering the initial spike already had occurred and the volume wasn't as high as I am used to (although the stock did trade 14,000,000 shares which amounts to about $4 million worth of volume which definitely suits my criteria. I got out with a profit of $1985 after commissions in about 12 minutes  which isn't what I had hope for, but none the less, it definitely beats $30 bucks an hour and I will take a profit any day over a loss! I certainly do experiences small losses, but on my main strategy for buying penny stocks, I have a very high winning percentage because I ignore everything except the highest probability trades.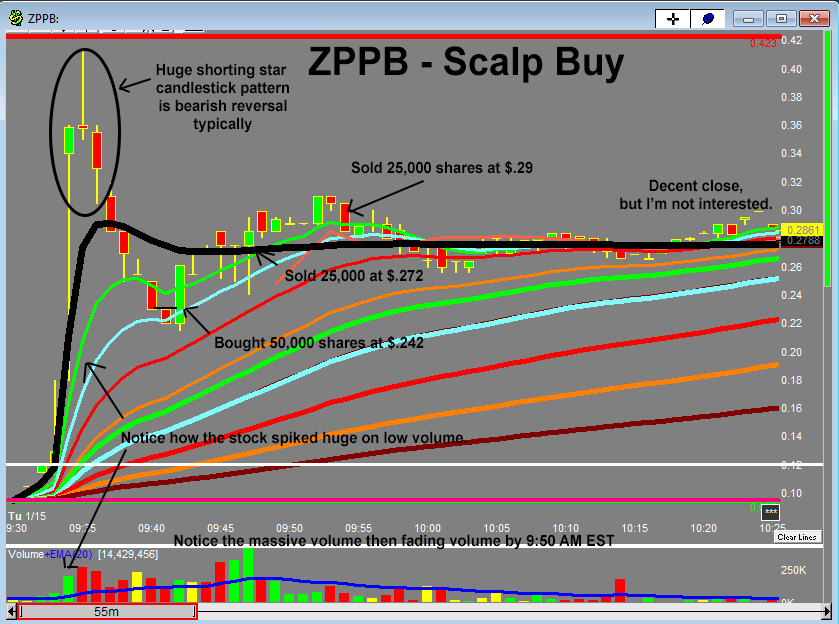 Is This Top Penny Stock A Multi-Day Runner?
There's a few questions that remain to be answered. First will ZPPB be a multi-day runner. Since it closed in the upper half of its range it has a chance to continue but it did not close near the high which means it probably will not gap up much.  This stock promoter really hasn't had a great track record in the past 4 months so I am not gonna bet that this stock turns into a huge winner like some of their other top penny stocks that they alerted. They may try to say their penny stock alert rose 300% but in reality they are lying since you couldn't profit off most of the move.