Hey I know it's been several months since my last post. Fortunately I believe I have had a good reason for my lack of posts. The last 6 months were pretty crazy for the stock market. Yes the market got caught in a range during April and May (even though now it is making a new all time high), but prior to this it was nonstop action day in and day out and that meant bigger profits, but also longer hours due to all of the additional research required for all the additional trading opportunities. Since I had several exceptional months with monster penny stocks trades in the weed stocks and biotechs, I decided it was time to reward myself with another trip to Asia. This time I decided to stay there for a month. Most people could only dream of taking a whole month off from work and their lives but the fact is my job as a successful trader allows me the freedom and the financial independence to do whatever I want to do. There is nothing in life better than having the capability to travel the world at will.
On another note I have some pretty great news for everyone that purchased my first course and e-book Penny Stocks Behind The Scenes: Beat The Promoters At Their Own Game & Profit. For the past 1.5 years I have been screen capturing my real trades. Over the last 12 months I started writing a follow up e-book to my first book. I was not planning to do this but I received so many emails with people urging me to teach them more about my strategy for trading both penny stocks, and higher priced big board stocks, that I felt I had to spend the time and do it. It's been a long process but I can thankfully say I am about 80% done writing my new e-book and I will most likely have it done some times this summer. I've worked really hard on this and I can honestly say you are going to be shocked at the amount of insight that this ebook is going to provide you about the trading system the buy/sell zones and detail  EXACLTY how I trade inside and out!!!
I left for my trip April 29th from Newark International (EWR) and flew business class in a premium flat bed seat to Bangkok, Thailand. Business class is not cheap at $14,000 round trip but it sure makes the 20 hour flight from the East Coast a lot more bearable than flying in economy and a couple good trades easily covered the cost. I had such a great time in Thailand last December that I jumped at the chance to head back over there when an old friend asked me to meet him there.
My Home For 20 Hours – Business Class NYC to Bangkok (Connecting in Hong Kong)

I stayed in Bangkok for 3 days (but soon realized that the 105 degree and 85% humidity weather) just wasn't for me. It was so hot that I didn't even bother taking any photo's. After meeting my friend I headed to several islands to enjoy the beach. First I flew to the beautiful island of Koh Samui for 2 days and stayed at the Nora Bori Resort. Koh Samui is a developed tropical island paradise that has many modern luxury resort, yet is able to maintain a slightly less touristy feel unlike Phuket.
Chaweng Beach Koh Samui, Thailand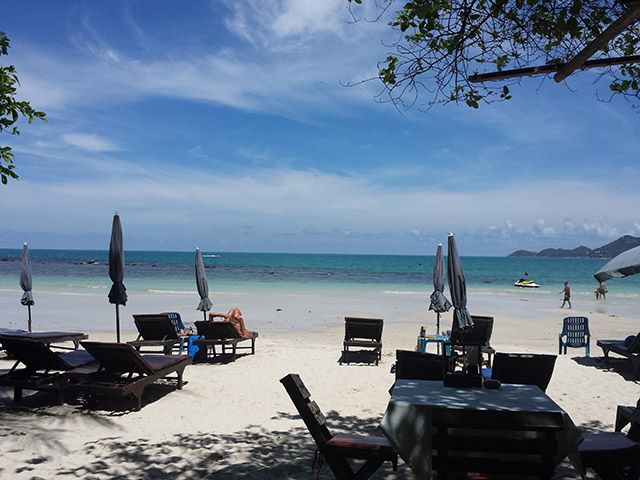 Nora Buri Resort and SPA Koh Samui, Thailand
 Amazing Infinity Pool Overlooking Private Beach
Partying On Chaweng Beach Koh Samui, Thailand
Next I took a 30 minute ferry ride over to the world famous island of Koh Phangan to attend the Full Moon Party. I stayed at a resort with an amazing view and crystal clear water for 4 days. Unfortunately I didn't take any pics of the actual party because I didn't want to lose my phone in my drunken stupor.
A View From My Hotel – Haad Yao Beach Koh Phangan, Thailand
Haad Yao Beach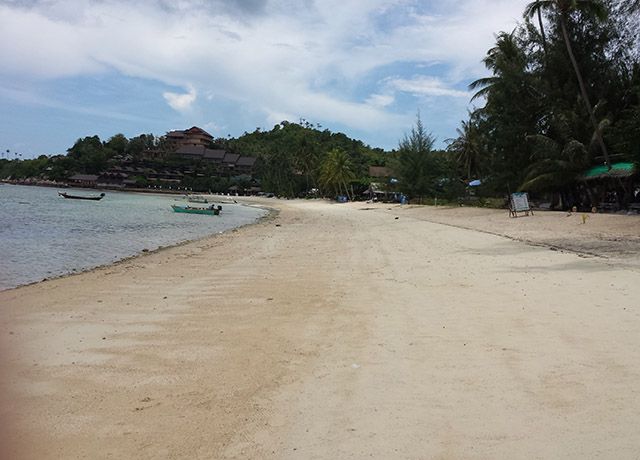 Driving Around Koh Phangan On A The Motor Bike
 Overlooking The Clear Blue Ocean From The Top Of A Mountain In Koh Phangan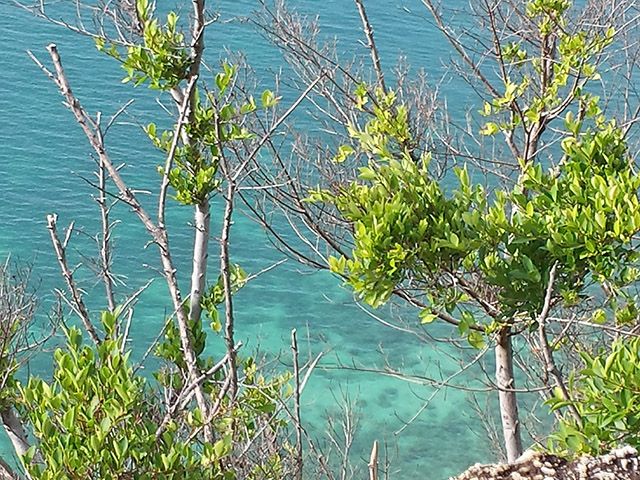 The full moon party was amazing and visiting this island was a great experience but after 4 days I decided it was time to move on to some place a bit quieter. So the next day I flew to the Krabi province in southern Thailand and stayed at Ao Nang beach (a more laid back region) for 5 days. From there I took several boat trips to see a number of amazing islands. Krabi is known for it's limestone rocks that protrude out of the ocean and crystal clear waters.
The Back Side Of Railee Beach Krabi, Thailand
Chicken Island Krabi, Thailand
BBQ Prawns and Squid
At this point I was a bit beached out, so I flew back to Bangkok for a night and partied at a club called Levels until 6 AM
The next day I took a flight over to Singapore to visit some friends that moved there from the US last year. For those that don't know, Singapore is basically a westernized city in south Asia which is a lot like NYC except 10x cleaner, a lot less traffic, great public transportation, completely safe due to stricter laws, and even more expensive than Manhattan (standard beers cost $16 USD on average)! Everyone in Singapore speaks English and it's essentially the Financial capital of Asia which explains why it's so expensive. Singapore is 2 hours south of Bangkok (by air) and a bit cooler (90 degrees F.) but even more humid with humidity reaching 90-100% at times! Luckily it rained the day before I got there and cooled down to about 80 degrees for the first 2 days.
A View Of Singapore Skyline In The Rain
A View Of Singapore's Financial Center From A River Boat Taxi
Marina Bay Sands Casino Singapore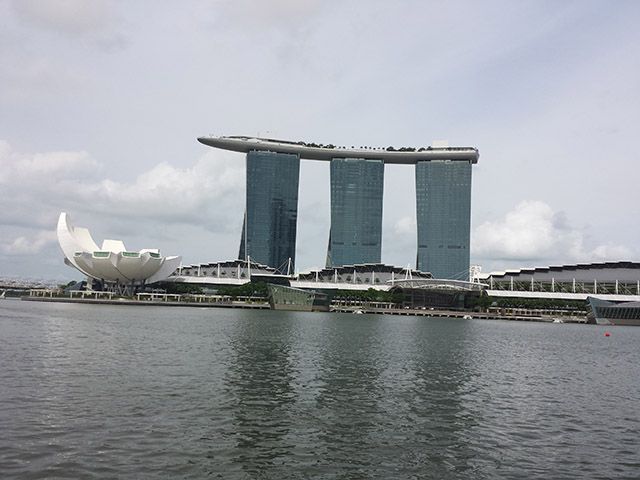 Hindu Temple – Notice How Clean It Is In Singapore.
China Town in Singapore
It was nice to see the city but after 3 days I felt that I had seen most of what Singapore had to offer and I was ready to move to another destination. Next I took a flight over to Malaysia which borders Singapore from the north. I decided to visit a city called Penang which is an island off the coast of northern Malaysis about 5 hours from Kuala Lumpur by car (a big metropolitan city which is the capital of Malaysia). The food in Malaysia was incredible.The food was a cross between Chinese (Cantonese style) and Indian which they call Malay food. It was absolutely delicious and at $3.00 a dish (at the local hawker centers – malaysia food courts), you can't really beat it. Besides Malaysian food, the prices in Malaysia are slightly more expensive than Thailand, but still reasonable in comparison to what we pay in the US (a 1 hour massage is $15.00 USD and a taxi ride for 20 miles was $15 USD). Malaysia seems to be a more developed country than Thailand and thus their increased level of education is reflected in their currency's exchange rate.  The beaches in Penang weren't as great as Thailand (although I hear an island known as Langkawi is a must see beach destination) but there was a lot of historic sites to see and I had a great time visited this country in the short 4 days I was there. I definitely will head back to explore more parts of this country in the future.
A View From The Highest Point In Penang, Malaysia
Sampling The National Fruit In Malaysia: Durian
Rendang Beef – One Of The Most Tasty Dishes I have Ever Eaten ($3 USD)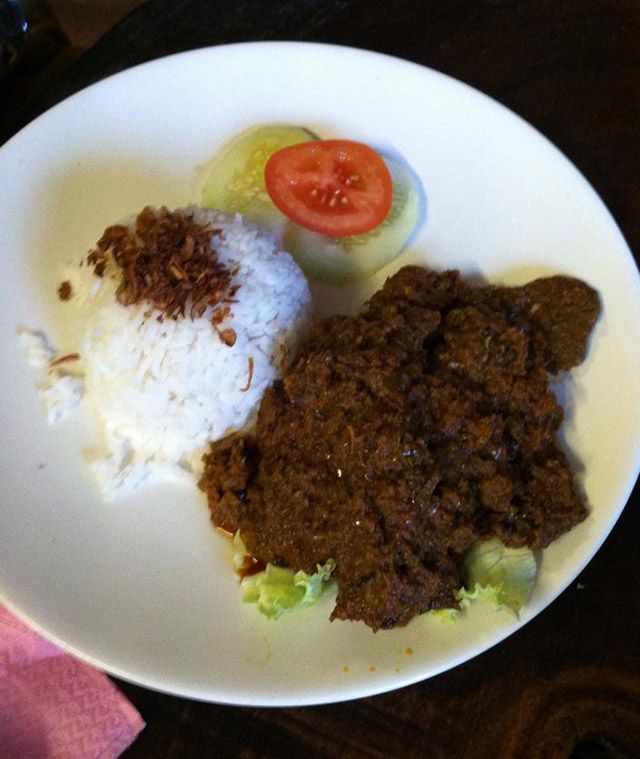 Oh Chien Fried Oyster Pancake ($2 USD)
Char Koay Teow (Famous Noodle Dish In Penang) – ($1.50 USD)
My return flight on the 31st of May was from Bangkok so I decided my last destination would be to visit the northern part of Thailand and in particular a city called Chang Mai. Every person I met in Thailand told me I had to visit this city and they certainly were not wrong. The city was about an hour north of Bangkok (by air) near the Cambodian and Myanmar border. It's the second largest city in Thailand (behind Bangkok) and although it's not near the beach, every hotel has a pool regardless. It was located in the mountains and therefore the temperature was a bit lower and so was the humidity but not much (98 degrees and 60% humidity). This city is world famous because it has 300 Budhist temples and a diverse mix of people from all over the world (many Americans and Europeans live here year round). While I am not really into site seeing, there was a lot to do in this city such as jungle treking, white water rafting, ATV riding, range shooting, ton's of shopping, and a lot more. From amazing Thai food at just $1 USD per dish to Thai massages at just $5 for 1 hour, you can't go wrong. This was also the cheapest place I visited in Thailand for shopping as well. I got 5 quality custom made shirts for $100.  I'll definitely be heading back to Chang Mai most likely around November when it's a lot cooler (who's coming with me??) .
Me At A Temple In Chiang Mai, Thailand
Tuk Tuk – How You Get Around Chiang Mai ($1 USD for up to 3 miles)

 Half Day Cooking Class In Chiang Mai,Thailand For $20 USD
Eating Delicious Street Food For 35 Baht ($1.15) In Chiang Mai
Fresh Baby Pineapple For $.30 USD
Front Row Seats At Muay Thai Match in Chiang Mai
There's Nothing Like Getting A 1 Hour Foot Massage For $4 USD
The Thai People's Favorite Way To Get Around: Motor Bike  (The Death trap)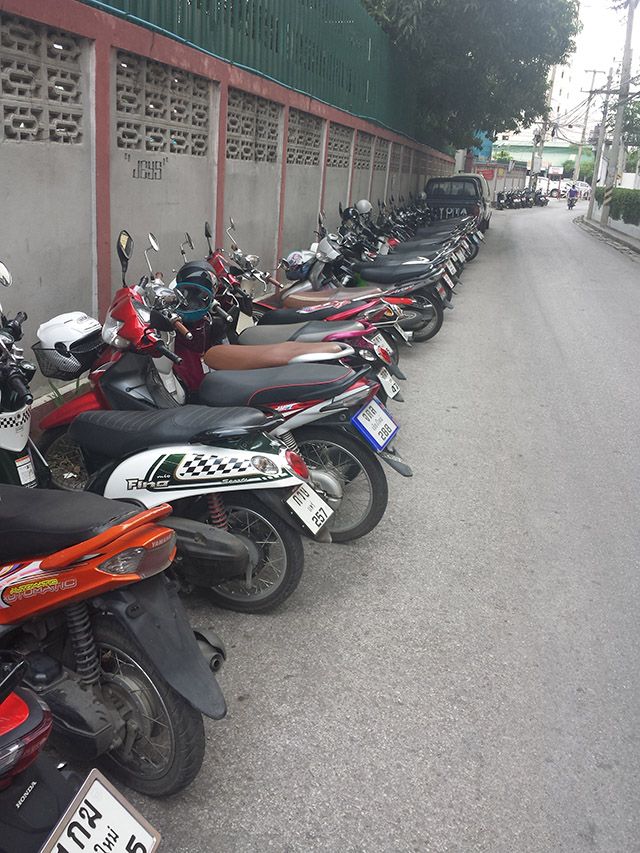 All and all my trip was an incredible experience and I urge anyone that's adventurous and open minded to check out South East Asia. Not only is it cheap but the food is incredible and in most places I went the people speak at least some English.
If for some reason you haven't checked out my first course here I highly suggest you get on that right now. My second course builds off my first so you will not want to miss out if you are serious about becoming a consistently profitable stock trader. I'm serious. I have spent a lot of time on my new e-book and I think it is going to blow you away when you see how useful it is…
Take care,
Dan