ZNGA – Setting Up For a Potential Move Higher
I am currently watching ZNGA for one of the patterns I look to trade. I call it a bottom reversal breakout. It has been setting up on the daily chart quite nicely and the pattern could be completed soon. I don't like to provide trade alerts in general because I find people don't benefit from them. Yes you may make some money, but you have to rely on somebody else which is not good. The only way you can actually learn to be successful is to become self sufficient and I am hoping my analysis below will help you with this process.
If you are on my special email list then you will be receiving a detailed analysis including where I would place stops, how I would manage the trade and how I projected my targets. There is no guarantee this trade will play out as expected and that is why the most important part of trading is to management your risk and size your position accordingly. The key to profitable trading is to setup a plan of action in advance and stick to it. Trading from the gut or by the seat of your pants does not work and never will work consistently. You have to locate the stocks to trade, choose your entry, target prices, and how much to risk on each trade. I suggest studying the chart below of ZNGA.When the stock gets to my target prices it may go higher. The truth is I do not care. I can't predict the future. I can't predict if a stock is going to go from $1 to $50 an nobody can unless they have inside information. What is possible is using a system like the one I use which allows me to have an idea of what should happen more often than it does not, and execute my plan accordingly.
To trade successfully you need to know how to locate stocks like this and how to annotate a chart. If you have a question feel free to drop me an email using the contact form and I will do my best to answer you.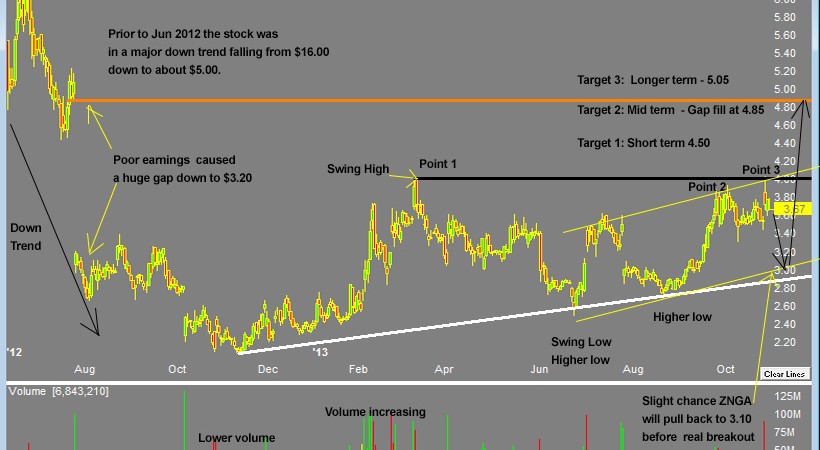 To start trading setups just like ZNGA and begin profiting click here to get started.
Disclaimer: I am not a registered financial advisory and therefore I do not provide trading advise. this info is for information purposes only. I am merely providing my analysis and you can choose to do whatever you want with this information. Trading in stocks is risky and the potential to lose your entire investment is real. Please contact your licensed financial representative before you make trading decisions.