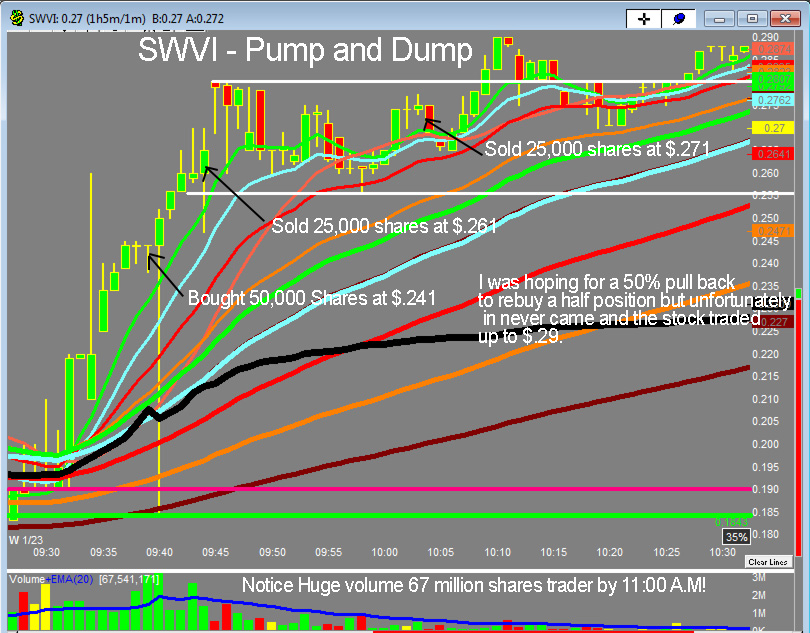 SWVI – Swingplane Ventures, Inc – Stock Promotion
I bought 50,000 shares of SWVI – Swingplane Ventures Inc. after the same group of pumpers that promoted FARE a month ago, released an alert. This was an awesome trade. The volume in the stock was huge as usually reaching 67 million shares by 11:00 AM EST. It probably will end up reaching 80-100 million which amounts to 15-20 million dollars of volume, which certainly is enough for me to pull out my profits as usual.
My Penny Stock Trade In SWVI
My entry price was $.241 when the alert was released. Most people couldn't get in but I did as I almost always do. I sold half of my shares of this penny stocks SWVI at $.261 when my strategy mandated I should. I sold my remaining 25,000 shares at $.271 when the stock seemed like it may top out. I was wrong and the stock did go higher, but so what? I locked in $1250 profit. It's not great but I was also traded CYBX for another $2000 profit so it was still a nice day and I will take it any day over a full time job.